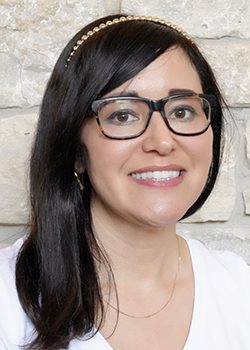 Liz Cipriano
Kindergarten Teacher and Director of Mission Advancement
Started at Notre Dame:
August 2023
Education:
Bachelor of Science in Elementary Education from Franciscan University of Steubenville, OH and a Master of Science in Educational Administration in Curriculum, Instruction, and Professional Development Franciscan University of Steubenville. Pursuing CIRCE Institute Master Teacher Apprenticeship
Additional certifications:
Liz considers herself blessed to have been able to serve the Lord as an educator in many unique roles throughout the years: Academic Dean of Overbrook Academy, elementary school teacher and Dean of Students of Everest Academy, At-risk Spanish Bilingual Preschool and Kindergarten Teacher, English as a Foreign Language Professor at College of DuPage, Trinity Homeschool Group Leader, and full-time private tutor to her three children for seven years.
Some of her fondest memories involve her time as a Regnum Christi Mission Corps Missionary. Mission Corps is a program where young adults volunteer for one or two years to work exclusively for the Catholic Church. It is a once-in-a-lifetime opportunity to serve the local Church through active apostolate, and to help other young people find the meaning of their lives in Christ. Liz was a missionary in Rye, NY, living in a huge, old house on a hill with professed Regnum Christi consecrated women and other missionaries, while living the same life of daily prayer and apostolate as the consecrated women. She was sent to work in NYC at the historic St. Jean Baptiste Parish in the heart of Manhattan. Along with her partner from Venezuela, they created a new religious education program in a parish that had not had one for many years. Along with her team, they also lead retreats and conferences for tween and teen girls in the NY, NJ, and Philadelphia area.
Family highlights:
Liz grew up in lovely, bucolic upstate New York at the foothills of the Adirondacks, and returns there with her husband and three children as often as possible to visit family and enjoy the slower pace of life. She will forever miss the sweet smell of fresh cut hay, and cross country skiing on the Adirondack Trail.
The impact of faith:
Friendship with Christ and membership in the Catholic Church is at the heart of my role as an educator, and the reason I chose to pursue education. The formation of children with the goal of them becoming virtuous adults and friends of God, together walking side by side with their parents, raising them up to become whatever God has called them to be, is to me one of the most important tasks on earth. It is a calling from God, and one that I do not take lightly.
Free times and pastimes:
Cooking from-scratch pies, pasta, and 'low and slow' stews, meeting people from different countries and cultures, foreign travel (planning a trip to Israel soon!), live Irish and Sicilian folk music, practicing new words and phrases in languages that I'm studying, and going to the Art Institute of Chicago with my children are among my favorite things to do in my free time.
Favorite quote/philosophy:
'...the principal question that must be asked of any educational proposal is not what practical or economic impact it will have but whether it promotes the moral formation of those toward whom it is directed.'
- Plato, The Great Philosopher-Educator
View All Staff Members